STOR / Improving access to healthy food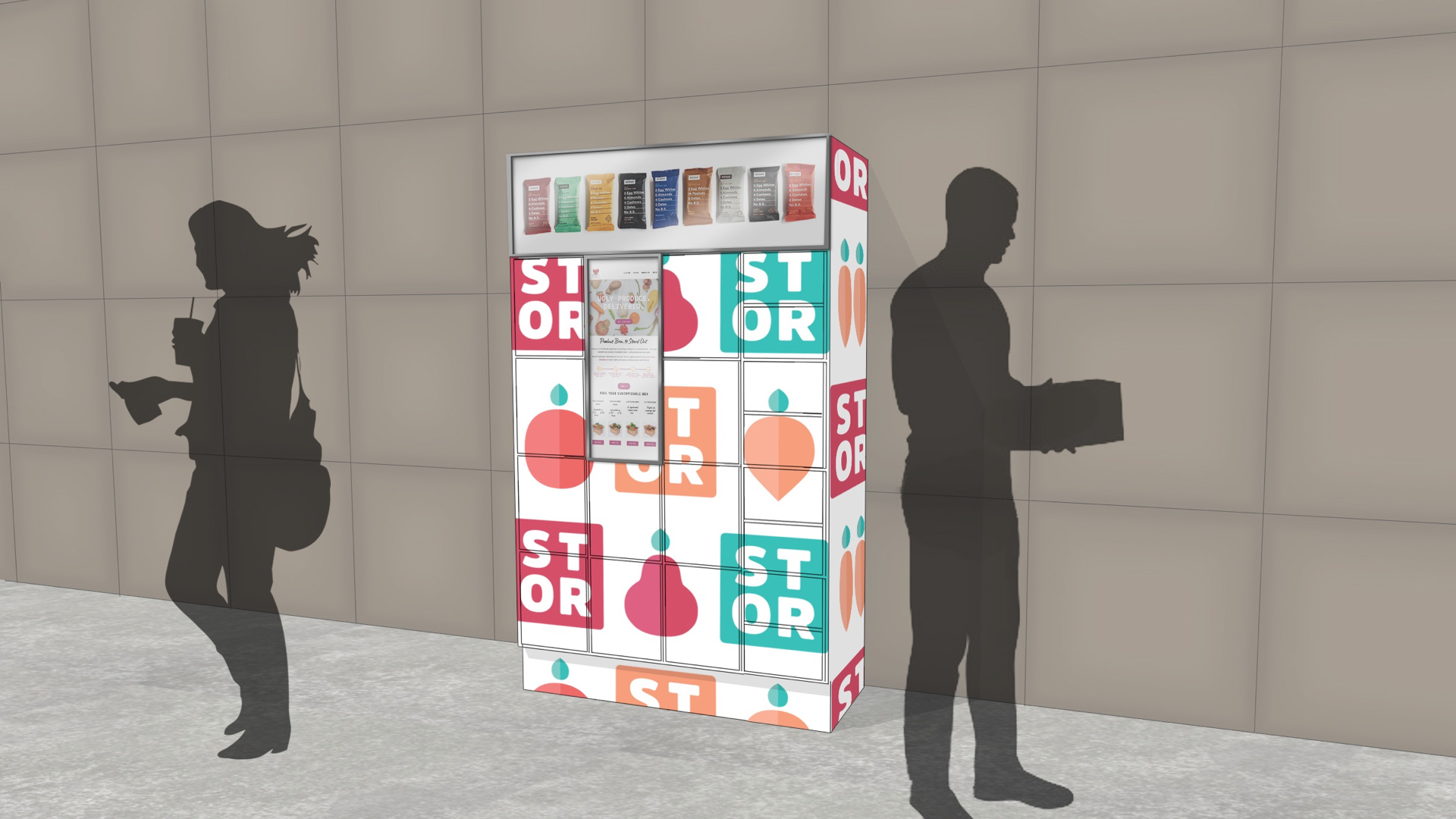 Small-scale food system innovation
Stor is a produce storage enterprise that provides convenient access to affordable and fresh produce and groceries. Stor's small-scale, food system innovation is designed to improve access to healthy and affordable food by expanding healthy food offerings and serving as a visible, reliable neighborhood access point.
Researched, designed, prototyped and pitched before venture capitalists and other industry experts, our capstone project for CCA's Design Strategy MBA program, Stor, sits at the intersection of food delivery, package storage, and social impact.
The challenge: Decrease food waste and increase food access
Our team was interested in exploring ways to help people make healthier food choices in their daily lives. After weeks of design research, including expert interviews, street intercepts, and ethnographies we began to see a pattern.
On the consumer end, people know that they should eat healthier, but still make poor decisions. Particularly because healthy food is often perceived of as more expensive or more geographically inconvenient. On the supply end, we found that we have more food in the United States than we know what to do with - $15 billion worth.
This $15 billion of uncaptured economic opportunity is caused by food waste on farms, and is categorized as imperfect, surplus, unharvested and rejected. And of this waste approximately 70% of the food can be used for consumption, representing $10.5 billion in potential sales.
The discovery: connect urbanites with local, imperfect produce
We found an opportunity to connect customers who want to buy affordable, quality produce, but do not have easy access. Some of the recurring comments we heard were that high-quality produce at supermarkets is too expensive, farmer's markets are only held at limited or inconvenient times, and that it would be a lot easier if local convenient stores could carry more groceries.
We also heard that for many Bay Area residents, grocery deliveries are too expensive or too insecure in dense urban areas and apartment buildings. In talking with community supported agriculture (CSA), secondary resellers, and convenience store owners, we learned that there are a variety of factors at play. Beyond issues of food waste, many farms and CSAs are struggling to connect directly to customers through farmer's markets or deliveries due to logistical problems like inconvenient schedules or pick up locations.
Secondary resellers, such as Imperfect Produce, are growing at a steady rate and are doing great work to source imperfect and surplus produce directly from farms, but they struggle to find logistical solutions to serve high-density areas like university campuses and urban apartment buildings.
Convenience stores are often the closest source of groceries in many urban areas — and healthy options are limited. Many convenience owners have had bad experiences in the past adding produce to their already crowded shelves, only to watch it rot. Though wary, many are still open to supplying healthy options for their communities.
Storage for good
We saw an opportunity to connect people in high-density areas who want access to affordable produce, and secondary resellers and CSAs who have low-cost, local, and imperfect produce by creating an intermediary transaction space that's convenient and secure for both suppliers and consumers.
We identified three key areas we could serve with our temperature-controlled food storage system:
• College campuses
• Convenience stores/bodegas
• Urban, high-density housing
The vision
We believe that small-scale, food system innovation can have a huge impact. We want to expand healthy food offerings by creating convenient, reliable access points for healthy food in neighborhoods and communities. Instead of trying to replace grocery stores or local markets, we see an opportunity to support them and fill in the gaps caused by time and geographic limitations.
How it works
Stor is designed to partner with grocery delivery companies like Imperfect Produce and other small-scale local farmers and community supported agriculture (CSA) to bring cheap, healthy food to convenient locations like college campuses, convenient stores, and high-density housing. Customers order from their grocery delivery company of choice and select a Stor location that's close to them. When their order is ready for pick up, customers scan their code on the Stor unit, and the compartment where their order is opens automatically.
The design
Stor's modular design allows for expansion and customization, depending on the needs of the space or brand. Stor's compartments are independently temperature-regulated, and temperature control can be shut off for packages that don't need refrigeration. Stor's smart compartments can sense the size of the package, when it was delivered and if/when it was removed. All compartment doors are self-closing and self-locking.
We built a functioning prototype of our storage locker and online platform and completed storage transactions between current Imperfect Produce customers in a test location: University of California, Berkeley.
The impact
Stor's value lies in expanding the accessibility to healthy food choices for everyone — both for food/grocery delivery companies struggling with logistics and customers who want to get affordable produce at a convenient time and place. Stor also cultivates a sustainable food access model by reducing food waste and ultimately decreasing food-insecurity.
Paying it forward
Built into Stor's business model is a buy-one give-one plan, where Stor would donate produce for each box delivery we facilitate. Stor will also offer discounted produce to food-insecure families using supplemental nutrition programs (like EBT or WIC) and secure donation pick-ups through local food banks.
We want to expand healthy food offerings by creating convenient, reliable access points for healthy food in all neighborhoods and communities. We believe in cultivating a sustainable food access model by providing more families with the opportunity to access fresh, affordable produce, especially in food-insecure areas.
The team
Adam Côté | Creative & User Experience Lead
Justin Paul | Fabrication & Production Lead
Riley Moynes | Operations & Finance Lead
Lindsay McComb | Content & Strategy Lead